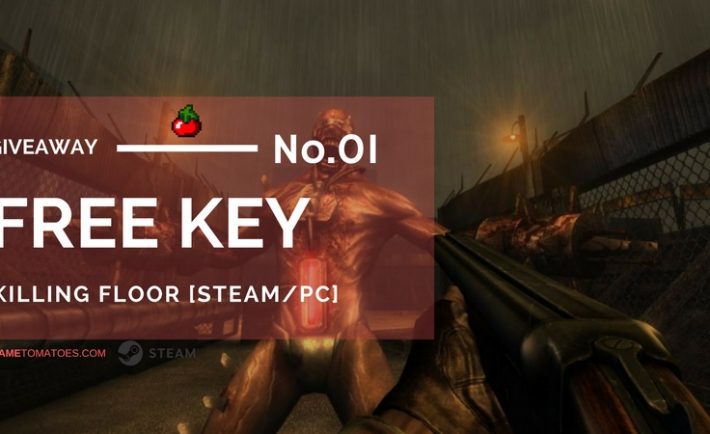 Sorry! This Giveaway has ended – a lucky winner was chosen! Don't worry though, another giveaway is right around the corner – be sure to Follow us on
facebook
,
twitter
, and
instagram
for the next giveaway!
You love zombies, everyone does! If you've been following horror zombie games at all in the past few years you've heard of "Killing Floor" and you also probably know that Humble Bundle recently gave away some keys to this game – but if you missed it, now is your chance! Because we have one to give away to you lucky lil' game tomatoes!
The Game: Killing Floor
If you haven't heard, Killing Floor is a critically acclaimed 6-player co-op survival horror game that is super fun (just read the reviews). This game is for Windows PC, Apple Mac and Linux (and yes, there are Steam Trading Cards)
Hint: Follow us on facebook, twitter, and instagram… and you won't miss the next GAME for FREE!
How do you get this free game?
Grab Killing Floor for FREE by following us on twitter AND retweeting this tweet

We're giving away a #FREE Killing Floor #Steam Key [#GIVEAWAY] to ONE Lucky Winner Tomorrow! Retweet/Share to Enter https://t.co/Zhd4tUjq4M pic.twitter.com/I5UroqPnn1

— Game Tomatoes (@gametomatoes) July 5, 2017

It's that simple!

we will choose a lucky winner tomorrow morning (July 6th, 2017) you will be contacted asap via a twitter DM (so make sure you follow us) with the key and you will have until July 8th, 2017 at 10:00 AM Pacific to redeem the key on steam!
What's a Steam key you ask? If you don't know how to redeem the Steam code for this game you simply log into your steam account, and copy/paste the key that we provide into your Steam Client: Library>Games – Add Game+ prompt (Select Activate a Product on Steam)
If you've any question or problem, then just take a look at the comments! Feel free to ask a question, or just add a note!
Good luck and have fun everyone! Thanks for participating!